Injection moulding of thermoplastics
Manufacturing customized products in various elastomers is our core business.
We bring your ideas to life, using state-of-the-art injection moulding technology. Our in-depth knowledge of materials, moulds, international experience and over 50 years of dedication, enable us to deliver high-quality products in many different niches.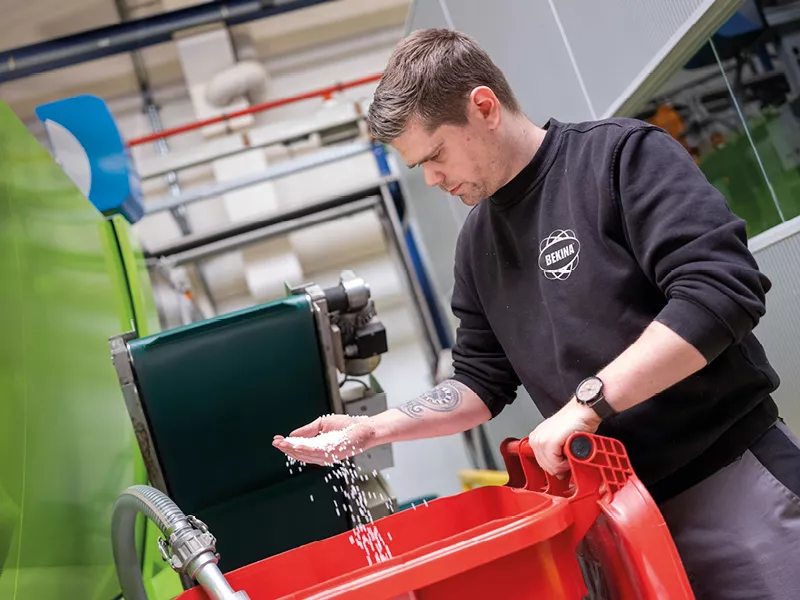 Experts in injection moulding of flexible polymers
As injection moulder, we specialize in flexible synthetics and rigid plastics. Our customer-oriented approach and technical expertise set us apart from the competition.
Since 1970, we have been working together with our customers for the development of innovative products, initially in rubber and as of the early nineties in thermoplastics.
Today we focus on the production of items in thermoplastic elastomers such as SBS, SEBS, TPE-light and TPE-E for very diverse niches. Thanks to our in-depth material knowledge and technical experience, we can always suggest and implement the most appropriate material to match the required properties.
Besides traditional injection moulding in mono-materials, we also have the ability to develop and produce products in bi-injection, paying extra attention to excellent adhesion.

Materials
As a material specialist and according to the desired product features, we provide our experts advices on the best materials to use.
Flexible Synthetics

Thermoplastic elastomers, such as high quality TPE-E, our TPE light or SBS and SEBS creating a soft-touch

TPE-E (ThermoPlastic PolyEster Elastomer)

Very good elasticity and memory
Excellent chemical properties
Interesting heat resistance

TPE-light (ThermoPlastic PolyEster)

Good suspension
Shock-resistant vs hard synthetics

SBS (Styrene Butylene Styrene)

Soft and rubbery touch
Excellent anti-slip properties

SEBS (Styrene Ethylene Butylene Styrene)

Very good weather, temperature and chemical resistance
Fully translucent version available
FDA-approved
Hard plastics

Standard plastics, as well as modified types

PP, both HOMO and COPO
PE, both HDPE and LDPE
PA, standard PA6 and impact resistant types
POM (Poly-Acetal)
ABS (Acrylonitrile Butadiene Styrene)
…
Technical plastics

Plastics with characteristics approaching those of rubber, mostly for very specific applications

TPU (ThermoPlastic PolyUrethane)

Strong mechanical properties (wear-and-tear and tensile strength)
Oil and hydrolyses-resistant

TPV (ThermoPlastic Vulcanisate)

Very good chemical resistance
High temperature resistance
High performance additives

To obtain specific properties, additives are added to the raw material

UV-stabilizer
Electrical and thermal conductive additives
Blowing agent
Glassfiber reinforcement
...